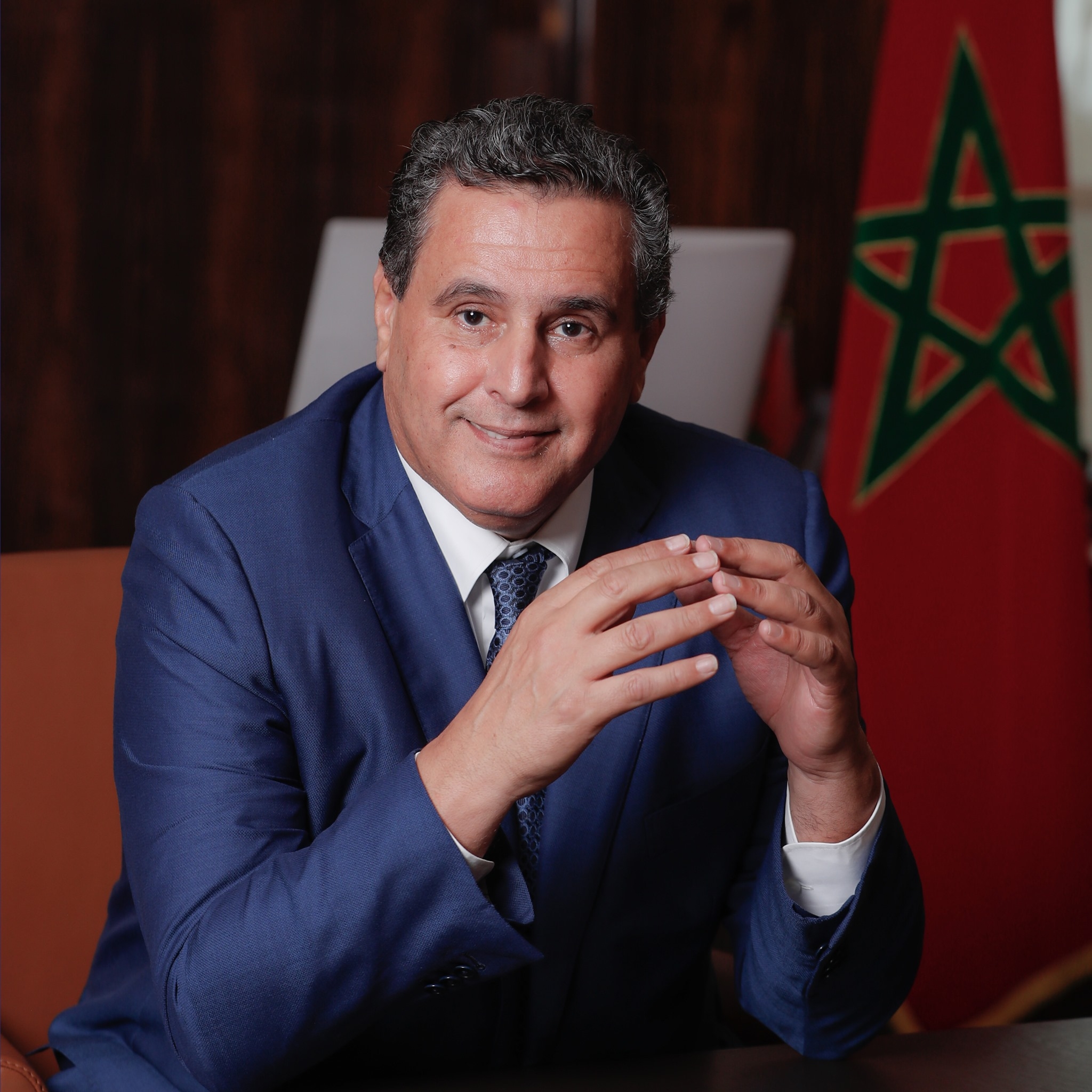 Mr. Aziz Akhannouch, appointed by His Majesty King Mohammed VI as Head of the Government, was born in Tafraoute in 1961 and is the head of the National Rally of Independents (RNI).
Mr. Akhannouch holds a diploma in business management from the University of Sherbrooke, Canada, and is the founder of several companies operating in different economic sectors.
Mr. Akhannouch was President of the Council of the Souss-Massa-Draa Region from 2003 to 2007, was a member of the think tank of His Majesty the late King Hassan II until 1999, a member of the Board of Directors of the Mohammed VI Foundation for Environmental Protection, and a managing member of the Mohammed VI Foundation for the Reintegration of Prisoners.
Mr. Akhannouch served as Minister of Agriculture and Fisheries between 2007 and 2021, during which time he was able to activate the Green Morocco Plan, an ambitious strategy, launched by His Majesty King Mohammed VI in April 2008 and internationally praised and cited as an example and a real model in the field of agricultural development.
Mr. Akhannouch also had the honor of presenting the new strategy for the agricultural sector "Green Generation 2020-2030", which came in implementation of the Royal Directives on the agricultural sector, and the strategy related to the development of the water and forestry sector "Forests of Morocco", before the eyes of His Majesty the King in February 2020.
Mr. Akhannouch worked on the implementation of the Haleutis Plan 2009-2020, a strategy aimed at modernizing the sector and improving its competitiveness and is considered the first integrated strategy for the fisheries and aquaculture sector in Morocco, which has made it possible to create a sustainable and competitive sector, based on the valorization of marine wealth, and making the sector a real engine of growth of the Moroccan economy.
Mr. Akhannouch was elected President of the National Rally of Independents on October 29, 2016, and was keen to create parallel organizations to the party and professional associations, and during this period, the party was distinguished by the approach of the policy of proximity through political initiatives and programs for consultation and put forward several contributions to issues of political and social interest.